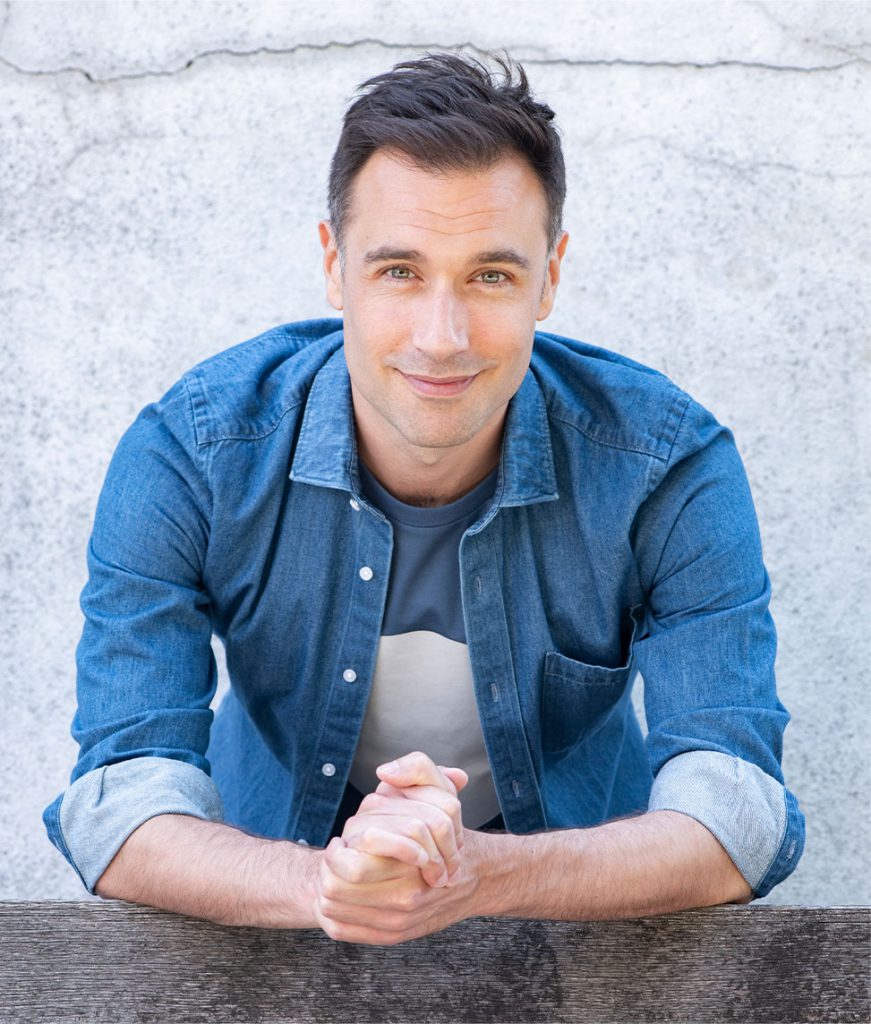 I was born in Edgeware, North London and moved to New Zealand when I was four years old. I have three younger sisters who I grew up with, and two younger brothers and a sister that I didn't – I adore them all, and I hope at least one of them will take care of me when I'm old.
I was a book smart, arty, nature-loving kid – editor of the school newspaper, student representative at high school and then, my crowning glory, Head Prefect. I was also Danny Zuko in my high school production of Grease, so I obviously had to become an actor.
At 18, I was accepted into a Drama School in Auckland to do a bachelor of performing & screen arts. I left two years later, hungry to start my career, which got off to a flying start when I landed a role in the popular, long-running kiwi soap 'Shortland Street'. I played Christian Grayson, a young teacher who scandalously fell for one of his students, and I was on screen each weeknight for 3 months, and felt like a superstar.
However, there was not a whole lot of TV work to do after Shortland Street. I had peaked too early. Lord of the Rings wouldn't start filming for several years yet, and I didn't even know about that, so it was no help. I decided now was the right time to return to London.
I arrived in the UK two days after my 21st birthday. I tried to get an acting agent, but to be honest, I was overwhelmed. I was a small-town boy in a very big city. It was amazing.
I worked as a waiter in a fancy hotel restaurant, and then I began writing for an online magazine. Before long, I'd taught myself the basics of search engine optimisation (SEO) as I selfishly wanted more people to read my articles.
After a summer promoting a club in Ibiza, I came back to London broke. I applied to a SEO agency to become a SEO copywriter, and before long I was optimising up a storm. After working at two agencies – and becoming Head of Online Marketing – I went freelance in 2010. I was writing my first novel, The Shape of Us, on the side as I built up my business.
In 2017, I began sending out my novel to literary agents (read here about my journey to publication).
The disruptive and brilliant Bookouture decided to publish my debut novel, and then three more and counting. My fourth book came out in 2022.
I live in Wanstead. I am vegetarian and teetotal, but I'm much more fun than that combination makes me sound.
Follow Drew Davies and subscribe to his newsletter
To receive delightfully random emails about my books and events, please fill in your details.

As a perk, once you sign up, I'll also send you a copy of 'On the Up' a short radio play I wrote in my early twenties, which is a little bonkers, but still quite topical (unfortunately… you'll understand when you read it). Enjoy!
Sign-up for the latest news
Sign-up for the latest news
By subscribing to my newsletter you are agreeing to my privacy policy. You can always opt out again, and I never pass your details on to anyone.